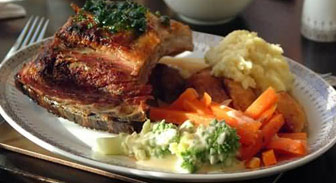 While traveling in North Dakota, you'll find all the usual suspects among area restaurants – pizza parlors, Italian, Mexican, Chinese, chain restaurants, and more. Adding to the array of cuisine in the Peace Garden State are culinary traditions from its Western days and ethnic heritage. You'll also encounter a few local specialties, from fish to fruit wines.
Western Grub
A number of Native American tribes roamed North Dakota's lands before pioneers arrived. Some of these tribes survived mainly by hunting buffalo, which they ate both fresh and dried as pemmican. Others farmed crops like squash, corn, beans, and sunflowers. Today, beans and sunflowers are still among the top crops in North Dakota, and several tribes raise buffalo. You'll find buffalo burgers and other buffalo dishes on some menus, but if you want real, authentic Native American foods, your best bet is to attend a powwow. A few you might want to consider include the Nue'ta Corn Festival, held in Mandan in August; Mid-Winter Pow-Wow, which takes place on the day of New Year's Eve in New Town; and the Twin Buttes Powwow in June.
During the frontier years, cattle ranching became big business in the western part of North Dakota. However, because of major blizzards during the winter of 1886 and 1887, 75 percent of the area's cattle died. Cattle ranching still takes place in the state, but the industry never fully recovered from the huge setback. This may explain why cowboy cooking is less prevalent in North Dakota than in many other Western and Southwestern states. Nonetheless, steakhouses are common, and plenty of menus offer chili, barbecue, and other Western favorites. Chuckwagon cooking contests even pop up on occasion.
German-Russian Foods
Beginning in the 1880s, many German-Russians immigrated to North Dakota over a period of about 80 years. German-Russians were Germans who lived in Russia, either because they had emigrated or been born there, but they had kept much of their German culture alive. They chose to settle in North Dakota partially because its prairie land and climate were quite similar to the Black Sea region that most of them were coming from. These pioneers survived by farming the land on their new homesteads.
Today, approximately 43 percent of North Dakota's population is of German-Russian or German descent. Many of their traditional foods remain popular in the state, particularly Knoepfla soup, Fleischküchle, and Kuchen. Knoeplfa soup is true comfort food, mixing dumplings and potatoes in a creamy chicken broth. Fleischküchle - basically a savory, deep-fried turnover - can contain a variety of fillings, but the most common is seasoned ground beef. For dessert, Kuchen is the hands-down favorite. Kuchen, as the German-Russians prepare it, has a cake-like crust on top of a custard filling, which often includes fruit. Some modern cooks add an American touch with ingredients like chocolate chips.
Travelers will find German-Russian dishes at numerous local restaurants. The town of Beulah is especially noted for their Fleischkuchle, which you'll find not only at restaurants, but fairs, festivals, a few roadside stands, and even the Dairy Queen. Many consider the Kroll's Kitchen restaurant chain in Fargo and Bismarck to be the best place for Knoepfla soup, as well as other German-Russian dishes. In New Leipzig, Leipziger Hof Restaurant is a popular gathering place to enjoy dishes like schnitzel (deep-fried, breaded meat, usually veal) and Russian-style borscht (soup made with cabbage, and often beets). Sauerkraut fans will love the town of Wishek, which calls itself the "Sauerkraut Capital of the World." For more than 80 years, the town has held an annual Sauerkraut Day in October, which currently draws about 1,000 visitors who come to sample the fermented cabbage dish.
What other German-Russian foods might you encounter in North Dakota? Sausages, spaetzle (tiny dumplings), strudel (flaky pastry with either savory or sweet fillings), and pierogies (baked or fried half-moon dumplings, which also contain either savory or sweet fillings, especially mashed potatoes or cheese; spelling varies). If you like pickles and happen upon German-Russian watermelon pickles, you may want to give them a try. Unlike the watermelon pickles most Americans are familiar with, the German-Russian version uses the flesh instead of the rind. Dill and red-hot peppers added to the brine give these watermelon pickles a kick.
Scandinavian Styles
Almost as many Scandinavians immigrated to North Dakota as did German-Russians, especially from 1905 to 1920. They came from Sweden, Denmark, Finland, Iceland, and especially Norway. Though the number of Icelandic immigrants was comparably small, more of them settled in North Dakota than in any other state. A popular Icelandic pioneer dish was skyr, a type of yogurt, typically served with blueberries.
Today, North Dakota's Scandinavian descendants number about 38 percent of the population, with an overwhelming amount of them claiming Norwegian heritage. Among the most common Norwegian dishes are lutefisk and lefse. Lutefisk is cod which has been preserved by soaking it in lye, and Norwegians generally either love it or hate it. In either case, it's considered an acquired taste, so lutefisk may be best left to travelers with a more-adventurous palate. On the other hand, lefse will appeal to just about anyone. This thin, flat potato bread is most often served rolled up with butter and sugar, but it can also be rolled around fillings, as you would use a tortilla.
Although the Scandinavian influence on cuisine is less than the German-Russian, you'll still see it here and there. Some restaurants feature foods like Swedish meatballs on their menus; others, like Happy Joe's Pizza and Ice Cream Parlor in Grand Forks, offer a smörgåsbord (buffet) at lunch or dinner. Scandinavian groups in the state also sometimes sponsor events and festivals where you can sample traditional dishes.
If you're really intent on eating a lot of Scandinavian food during your trip, you won't want to miss the Norsk Høstfest, held around the beginning of October each year in Minot. The largest Scandinavian event in North America, Norsk Høstfest features a wide variety of authentic fare to enjoy in between entertainment and cultural programs. In fact, the festival reports that many people come just for the food.
Those who can't make Norsk Høstfest may want to check out the Scandinavian Hjemkomst Festival, which takes place in June. It's also a large event, held just across the river from Fargo in Moorhead, Minnesota. The two cities consider themselves to be one metropolitan area, and many of the area's Scandinavian groups include members from both cities.
Local Specialties
The land and rivers of North Dakota also produce a few local specialties. The official state fruit, the chokecherry, adds a flavorful touch to a number of food items. For instance, there's chokecherry butter, akin to an apple butter. Chokecherries are also used in jellies, fudge, barbecue sauce, and more.
With North Dakota's vast, unspoiled lands and its lakes and rivers, hunting and fishing are popular pastimes. Local fish you may catch yourself or find at a local restaurant include Northern pike, walleye, bass, perch, several types of trout, catfish, and chinook salmon. Among wild game, there's duck, geese, pheasants, grouse, partridge, wild turkey, deer, elk, moose, antelope, and bighorn sheep. If you want to eat wild game, your best bet is to hunt it yourself, but a few restaurants here and there serve it.
In addition, North Dakota boasts a few wineries, all of which offer tours and tastings. For a number of grape wines like Merlot and Riesling, the main establishment is Red Trail Vineyards. Dakota Hills Winery produces a few grape wines, though most of their wines are native fruit wines and honey wines. Maple River Winery and Point of View Winery produce only non-grape wines, mainly fruit and honey wines. Fruit wines you'll find include chokecherry, crab apple, wild plum, elderberry, apple, raspberry, and many more. Rhubarb wine is another variety, and Maple River also makes dandelion wine and pumpkin wine. You may be hard-pressed to find these wines outside of North Dakota, so if you love wine, stopping by a winery would be a fun and tasty addition to your trip.
When vacationing in the Peace Garden State, you'll have plenty of dining options to choose from. And trying some of the state's local cuisine, whether steak, kuchen, lefse, or chokecherry jelly, will give you a real taste of North Dakota.
Print this Article